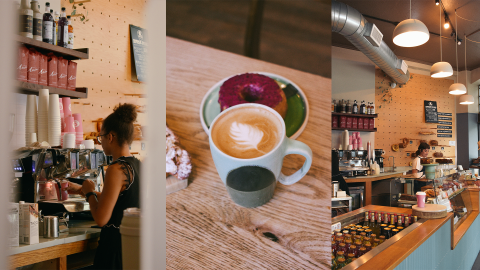 "I could go for a coffee right now." "Where's the nearest coffee place?" If we had a nickel for every time we heard or uttered those words, right? Happily, there's a coffee house or roastery just about around every corner these days, but some of them rise above with their drinks, their blends, their hospitality. Hence, we have filled our cups to the brim with delicious offerings for you and this list is broken down by County so that you can get to that cup quicker! Sip alone, brew, sip with a friend-life is good.
Fairfield County
Winfield Street Coffee-Stamford, Westport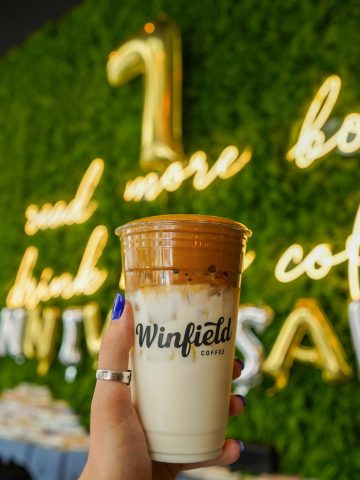 Winfield Street Coffee was created to be a community gathering coffee place where guests can find a warm smile, excellent coffee and creative food. Winfield Street Coffee is here to offer a variety of catering options for all events such as breakfast, lunch, corporate gatherings, birthdays, celebrations, and so much more! Yes, they are a specialty coffee shop, but they're also a sandwich shop! While they specialize in breakfast and lunch catering, they also pride themselves on making delicious artisan sandwiches, bowls, and pastries using time honored techniques with all natural and local ingredients. They have many healthy options and quite a few indulgent ones too! Every order is prepared with care by a team of loving and professional chefs and baristas at each of their locations, providing their loyal customers the highest quality product that they have come to love and expect. With many experienced chefs on the team, Winfield Street is able to offer customizable menus and other offerings that can be specialized to each event.
Greenology-New Canaan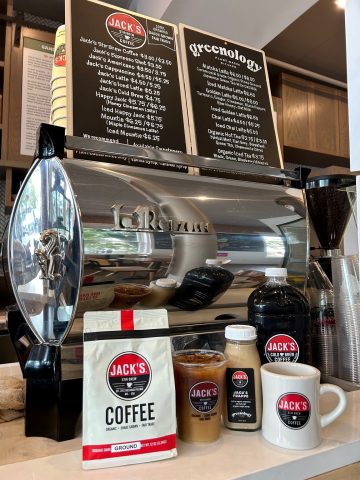 https://greenologykitchen.square.site/
Jack's Stir Brew Coffee at Greenology has the highest quality freshly roasted organic, shade-grown, fair trade coffee, delicious vegan/gluten-free baked goods from local Izzi B's bakery, fresh organic cold-pressed juices, full smoothie bar and 100% plant based food menu with breakfast, lunch and dinner. Jack's started as New York City's first coffee house to exclusively serve ethically-sourced, organic, shade-grown coffee. Jack's helped pioneer the crop-to-cup movement by working directly with the farmers and purveyors that grow the coffee Jack's proudly serves. With popular locations throughout NYC including Grand Central, Tribeca and Hudson Yards and throughout the Hamptons, Jack's at Greenology is (so far) the only Connecticut location. The Jack's at Greenology team of friendly and skilled baristas expertly craft favorites such as the "Happy Jack" (oat milk latte with honey and cinnamon) and "Mountie" (oat milk latte with maple syrup and cinnamon).  Jack's at Greenology is open 7 days a week on Main Street in New Canaan, CT.
Coffee For Good-Greenwich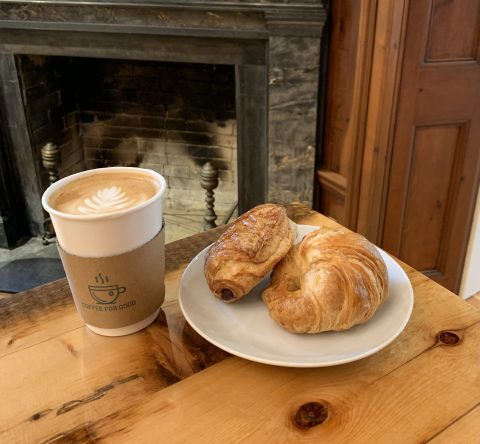 Coffee for Good, voted the Best Coffee Shop of the Gold Coast – 2023, in Greenwich, CT is in an 1858 building with ample, free parking. Better yet, it is a nonprofit that provides a paid training platform for people with developmental disabilities. Training lasts between 6 to 18 months, when trainees graduate to competitive integrated employment. Since opening in 2021, Coffee for Good has trained 42 young adults and placed over 20 into employment. Current employers are Gregorys Coffee, The Maritime Aquarium at Norwalk, Keough's Hardware, Honey Joes Coffee, Aux Delices, YMCA and The Bruce Museum. Everyone at Coffee for Good believes  in the dignity of a job and that meaningful employment is vital to a person's mental, social, financial and emotional health. Stop by for great coffee, food and help them train young adults.
Dolce Italian Cafe-New Canaan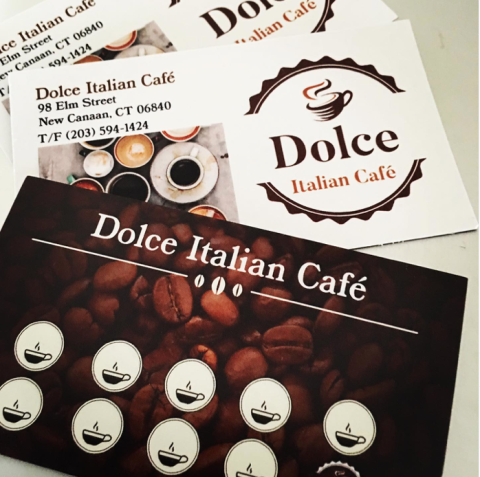 Dolce Italian Café proudly represents the essence of Italian coffee culture, serving as an ambassador for this cherished tradition. Upon entering the café, visitors are instantly enveloped in the inviting aroma of freshly brewed coffee, welcoming them to Dolce Italian Café's own slice of Italy in New Canaan. The café exclusively uses Cafe Vergnano, a distinguished coffee company located in the North of Italy, to ensure an authentic experience. For coffee enthusiasts, Dolce Italian Café is a true haven. Their cappuccino, a definite highlight, is skillfully crafted, blending robust espresso with velvety frothed milk, resulting in a taste that's simultaneously indulgent and comforting. Complementing the exceptional coffee offerings is a genuinely friendly and attentive staff. In addition to an extensive range of Italian coffees, the café also offers a diverse breakfast menu, featuring freshly baked pastries, Italian panini, salads, gelato, and crepes. Approximately four months ago, they introduced their dinner service, available from Wednesday night through Sunday night, showcasing an exciting, authentic Italian menu accompanied by an outstanding bar program and exceptional wine list.
The Granola Bar-Darien, Fairfield, Greenwich, Stamford, Westport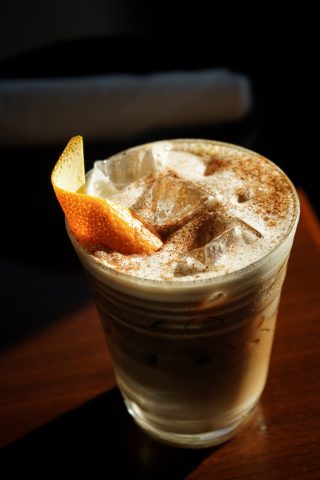 The Granola Bar has always been synonymous with great coffee, and as of October 1 in honor of International Coffee Day, they're launching a new line of Hard Lattés in Darien and Rye, inspired by your favorite evening cocktail flavors. Introducing the OG Hard Latté, perfect over boozy brunch or as an afternoon pick me up. No need to wait until 5pm at The Granola Bar! It's an ice-cold blend of vodka, Bailey's Irish Cream, a smooth shot of freshly brewed Coffee of Grace Moonlight espresso, Frangelico Hazelnut Liqueur, a dash of orange bitters, simple syrup and almond milk, shaken over ice and garnished with an orange peel. Cheers to a Good Morning, Better Night at The Granola Bar.
Greiser's Coffee & Market-Easton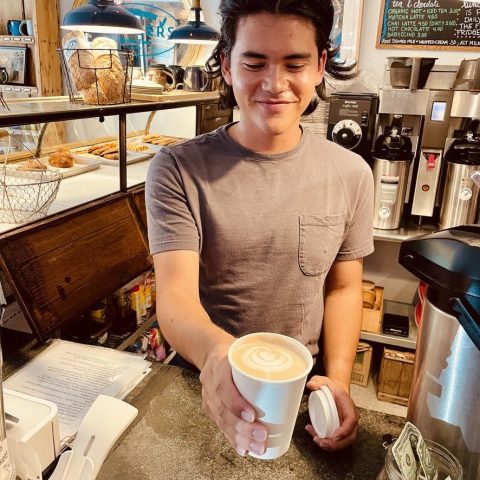 In 5 years since opening its doors as Easton's only coffeeshop, Greiser's Coffee & Market has earned a reputation as the hub of this semi-rural community that had long yearned for a gathering place. Owner Adrienne Burke won fans from the get-go by brewing La Colombe Coffee Roasters, offering goods from local farms and artisans, and turning a dusty deli into a cozy antique-decorated jewel of a cafe. But it's the food and the friendly small-town vibe that now bring regulars in more than once a day and back again for evening events that feature Easton musicians, artists, and experts who share their knowledge at "Local Wisdom" supper lectures. This year, Isabel Daniels, who spent 10 years as a pastry sous chef in NYC (including at Union Square Hospitality Group and David Burke Townhouse) joined Ryan Murawski in the kitchen to level up the cafe's menu. A consistently packed parking lot suggests they've succeeded, and some new customers claim the shop is what inspired them to move to Easton!
Allora Coffee & Bites-Norwalk, Stamford
www.alloracoffee.com
Meant to transport you to Italy (yes, please), Allora serves locally roasted coffee and "clean" delicious desserts and nibbles. Take a moment to pause and enjoy their lovingly crafted lattes (maple bourbon, matcha lavender), cold brews that have been steeped for 24 hours and numerous other java delights.
Barcelona Wine Bar-Fairfield, New Haven, Norwalk, Stamford
www.barcelonawinebar.com
Bet you don't know that the tapas-and-wine bar offers a spruced up caffeinated cocktail, and nothing beats the aroma of coffee in the afternoon: Barcelona's Mini Espresso Martini (and yes, it's completely adorable) is found only on the Happy Hour menu. This version is the classic can be ordered either "rich" or "dark" and features the addition of espresso maple syrup and nutmeg along with the vodka and Irish cream for dreamy, coffee-forward flavors.
Bonjo Coffee Roasters-Stamford
www.bonjocoffeeroasters.bigcartel.com
Head to their website, order coffee by the bag online or place an online order to pick-up from their Espresso Bar (or have delivered!). They've got single origins, blends and espresso and they've focused on these exceptional drinks for 40 years.
Cafe Aroma-Norwalk
Tiny, neighborhoody, and nestled on Wall Street in Norwalk, Cafe Aroma is a great spot get a coffee to-go or linger on their comfy seats outside. They offer plenty of hot or cold coffee beverages and a great array of pastries (don't miss the Greek and Mediterranean-inspired ones).
Caffee Social
Downtown SoNo favorite for specialty coffees, outrageous breakfast dishes, and warm hospitality from three sisters, Elpida, Glika and Ioanna.
Cafe Dolce-Norwalk
It's a little piece of Europe (more specifically, Hungary), in Norwalk. Plenty of coffee drinks using their signature roast, along with paninis, crepes and fresh-made killer desserts and pastries. Don't miss their Almond Croissants and Tart Cherry Strudel.
Donut Crazy-Branford, New Haven, Shelton, Stratford, Westport
Cold Brew and Nitro coffee, lattes, cappuccinos, mocha iced coffees or get a whole box o' joe to accompany the crazy donuts you are invariably going to purchase.
Candlewood Coffee-Brookfield
A family-owned coffee roaster, sourcing and roasting only the best beans. Order online-they've got about 20 variety of beans-and yes, Pumpkin Spice is now in the house! Available in pound bags, single serve cups, and bulk! Check their website for local retailers.
Frenchies Coffee Bar-Stratford
They see Franchise is your middle ground-somewhere you can go that's between home and work and feel relaxed. To help with your groove, they have about a dozen coffee and espresso drinks made from organic, fair Trade Downeast Coffee so that you can kick those feet up, chill and reflect on the day. They also have a Doggy Nook, so you can bring your furry friend.
GG & Joe-Westport
Bustling, social vibe at this chic neighborhood space. They've got the full roster of hot and iced coffee beverages-Caramella Latte, Bulletproof coffee, Iced Turmeric Latte, seasonal drinks-and bonus: they make their own almond milk fresh daily as well as all coffee syrups, using only whole ingredients and unrefined sugar.
Grounds Donut & Coffee-Danbury
Aside from the Churro or Fruity Pebbles donuts, stop by for a coffee, which, er, goes well with those DONUTS. They've got all manner of coffee drinks or you could grab a box of coffee to go with all those aforementioned fried rings of bliss you're going to share (yeah, right).
Honey Joe's Family Coffeehouse-Stamford
Honey Joe's Family Coffeehouse is a modern spacious cafe catering to all ages, perfect for relaxing, studying, working, or catching up with friends. A large adjacent play area invites caregivers with young children to relax while enjoying quality food and beverages.
Humbled Coffee House-Stamford
Cool vibes, comfy seating, and eclectic decor-the perfect spot to serve Bonjo Coffee and a delicious range of espresso drinks, drip coffee and locally sourced pastries. These days, with a crisp in the air, they suggest a perfect cappuccino paired with a slice of Apple Cinnamon bread. You game?
Kneads-Westport
www.instagram.com/kneads.westport/
Kneads has a full espresso based beverage menu, sandwiches, salads, soups, pastries and, their beautiful homemade bread (they even mill their own grains). Kneads "chalkboard" menu features 100% whole grain organic flour with a heavy focus on local products.
Modern Love Coffee Roasters-Stamford
Swoon-y seasonal drinks that bring to mind (and taste) caramels and cookies and the season's most loved spices, such as their Lemon Biscotti or their Cookie Butter Latte. When the sun goes down, head over for wine, cheese, and charcuterie boards.
Molten Java-Bethel
Arts of all sorts, community support and involvement, an accepting environment, and on top of that, they roast their own coffee. Go on by and try their fabulously named coffee drinks, you won't be disappointed. They've got swanky new travel mugs to put it in, too.
Mothership on Main-Danbury
www.mothershipbakeryandcafe.com
You can't pass through Mothership without learning a little bit about Danbury's history. Their walls pay homage to the town while filling your belly with their organic, house-roasted coffee and house-made baked goods. Did we mention the beans are roasted in a 100-year old roaster? They are that serious.
Mrs. London's Bakery & Cafe-Westport
Hot pink and lotsa sparkle. Walk inside and you'll get the fabulous picture. They've got a little bit of everything here, starting with espresso drinks and decadent pastries, salads and sandwiches to a champagne vending machine. Yes, please.
NEATCoffee-Darien
Serious about all things coffee, Neat will not only give you a delicious cup of high quality coffee, they will tell you everything there is to know about how it got to your cup. Buy a pound or grab a cup.
Nove Cafe-Wilton
Newly opened, chic rustic, with cozy yet bright spots to sit with a coffee, breakfast, lunch or treat from their extensive menu. The owner hails from Columbia and proclaims that coffee "is in his blood". If it's a coffee drink, they've got it-hot, cold, frozen and everything in between.
Pacific Cafe-Stamford
https://www.facebook.com/pacificcafect/
Sip-Bike-Chat. Or do you take that coffee to gooooo? They've got local coffee, espresso drinks, local breads from Wave Hill Breads (Norwalk), teas and pastries that you can bike off later.
Patisserie Salzburg-New Canaan, Stamford
Pop by this upscale European-style cafe for a cup of their freshly brewed Illy coffee or a frothy cappuccino to enjoy along with any one of their gorgeous European desserts, pies, tarts, cookies and pastries.
Pausa Caffe-Norwalk
All things Italian and it couldn't be better. Enjoy a coffee break-a Pausa- with a true cappuccino and a flaky cornetto ("it's not a croissant, it's a cornetto"), accompanied by Italian music and an atmosphere that has you thinking Sophia Loren might saunter through the front door.
Proof Coffee Roasters-Stamford
Straight outta Brooklyn and into your cup. Proof is 100% certified organic coffee, sustainably focus and family-farm sourced. Lots of love and care go into these beans to result in a superior Americano, Cortado, Cappuccino-just name your espresso drink of choice. The Proof is in,well, the mug.
Raus Coffee Company-Online and Pop-ups
Known for their Cold Roman, which is a hot brewed espresso combined with some raw sugar and their own magic touch. Use it straight, iced, neat or in some memorable cocktails this holiday season. Check website for ordering your Cold Roman or bagged beans.
Redding Roasters-Bethel
Roasting since 2004. Tucked behind another building off Greenwood Ave in Bethel, they roast every day. Trust us, the fabulous wafting scent will help you find the way! Try some samples, and then enjoy brewing the pounds you take home.
RISE Brewing Co.-Stamford
Canned Nitro Brews-coffee that is brewed with nitrogen to render it silky smooth-blended with organic oat milk…crack open an Original Black, Oat Milk Vanilla, Oat Milk Latte, Oat Milk Latte, or a Salted Caramel. Take 'em anywhere, stow one in your purse for later, keep them in your fridge for anytime. See website for purchasing or ordering.
Roost & Ada's Kitchen and Coffee-Cos Cob, Darien, Greenwich
Artisanal coffee and teas, as well as scratch-made and locally sourced food, lovingly made for the local community. Their coffee is provided by their good friends at Kestrel Coffee Roasters, who roast beans in small batches weekly. Roost Kitchen then grinds every cup to order!
Ross Bread Shoppe and Coffee House-Ridgefield
The coffee house part of this equation serves up drip coffee and a nice variety of espresso drinks.They are also known for their organic bread, and have a bread schedule on their website. Which came first? The cappuccino or the loaf of fresh bread?
Rumors Coffeehouse-Danbury
www.facebook.com/rumorscoffeehouse
Very cozy and set in a little cottage off a main road, Rumors has a fun and funky selection of creative coffee drinks using CT's own Saccuzzo coffee. If you need a jolt, their Dead Eye should do the trick: a cup of coffee with 3-count 'em, 3-shots of espresso.
Sacred Grounds Coffee Roasters-Sherman
www.sacredgrounds.coffee
Sacred Grounds Coffee Roasters in Sherman, CT is expanding its reach across Connecticut with their Organic and Fair Trade coffee — and now has 12 oz. ready-to-drink, highly-caffeinated cans both at their roastery and with many of their retail partners!
Shearwater Organic Coffee Roasters-Fairfield, Trumbull, Westport
www.shearwatercoffeeroasters.com
Family owned, sustainably focused, 100% organic and certified Kosher. Shearwater Coffee Bars offer customers a warm and inviting contemporary environment, where you are served your perfect latte, cappuccino, nitro or pour-over coffee. Check their website for the full list of stores and cafes where you can buy or enjoy Shearwater products.
SoNo Baking Co-Darien, Norwalk
Whether you're looking for a great Caffe Latte or a refreshing Cold Brew, The SoNo Baking Company & Cafe has a full line of coffee and espresso drinks to get you through your day.  And the pastries, cakes, cookies and pies are the perfect addition and not be missed.
Source Coffeehouse-Bridgeport
A community-driven coffee shop located in Bridgeport's Black Rock neighborhood, with plenty of familiar faces and good coffee and espresso drinks continually being poured. Cosmic Pumpkin Spice Latte is back, folks, so grab your bestie and sip away
Strigo Coffee-Norwalk
Strigo Coffee roasts only the freshest sustainable specialty coffee in their South Norwalk roastery. They supply Allora Cafe, Harbor Harvest, The Pantry, So Fresh Doughnuts, Eco Evolution and offer free local delivery!
Tazza Cafe-Ridgefield
Tazza offers the classic roster of coffee drinks, both hot and cold, along with non-coffee libations such as hot cocoa, Chai, teas, milk steamers and smoothies. They also have a serious breakfast menu with protein shakes and Acai bowls..
Terra Cafe-Monroe
Vegan and veggie options for breakfasts, salads, and pastries, including their organic coffee drinks, which can be made with a variety of non-dairy milks. Maybe this is the year you branch out from coffee and try their Mocha Mushroom Latte, which has powders of six different mushrooms and cocoa (hello, immunity boost!).
Terrain Cafe-Westport
From bringing the outdoors in and the indoors out, you go to Terrain almost as much for the ambience and decor as you do the great treats and drinks. Their coffee menu ranges from a simple cup of well-poured coffee to Cardamon Turmeric or Pumpkin White Mocha Lattes.
Tusk and Cup-Ridgefield, Wilton
Cozy, artsy, and oh-so-Italian, Tusk & Cup is the place to go for an espresso con panna or gelato. They take great care with their coffees and gelatos and their process to make it sure it smacks of all things Italian. Bravo, we say!
Verde Galerie-Stamford
A florist that also serves coffee and sweet treats, breakfasts, and Brazilian and Filipino dishes. Here's a scenario: grab a gorgeous bouquet for your honey and get a cappuccino and an Ube crinkle cookie for yourself. Done!
Wake-Cup Coffee-Fairfield
Wake-Cup-Coffee is a beloved "hidden gem" in Fairfield for commuters or those staying a while to enjoy a coffee, pastry or some breakfast. They use freshly roasted coffee beans when they create custom drinks with Nutella and spice-filled chai, as well as a variety of plant milks to make your taste buds sing.
Zumbach's Gourmet Coffee-New Canaan
www.facebook.com/zumbachscoffee
Since 1992, Zumbach's has been roasting coffee in-house, selling and also simply enticing the community with the heady scent of coffee beans that spills out of the quaint store. They stock over thirty types of beans for purchase along with a good list of coffee drinks.
Hartford County
Rebel Dog Coffee Co.-East Hartford, Farmington, Plainville
With their carefully chosen and expertly roasted coffees, Rebel Dog Coffee Co. caters to all coffee drinkers' tastes, from light and uniquely complex to rich and dark with smooth and chocolatey cold brews to single-origin pour overs and creative seasonal espresso drinks. All of Rebel Dog's locations also have extensive made-to-order breakfast and lunch menus to compliment their cups of joe. The Tavern at their Plainville location offers brunch every day of the week, a full bar with classic and seasonal cocktails, and even wood fired pizza and at the East Hartford location, you'll find a mix of menus from both the coffee shops and the Tavern. As for taking Rebel Dog Coffee home with you, in addition to buying at their Plainville, Farmington, and East Hartford locations, you can now find Rebel Dog's award-winning coffees online and at all Big Y grocery stores and Caraluzzi's Markets. And wait! Their capacity to expand the reach of their coffee doesn't stop there-Rebel Dog offers a comprehensive private label and wholesale program for other local businesses looking to level up their own specialty coffee offerings.
Birdhouse Cafe-South Windsor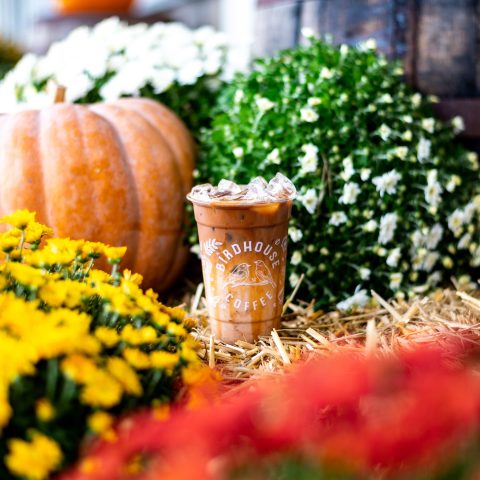 Nestled in the heart of South Windsor, Connecticut, Birdhouse Coffee is your go-to destination for a delightful coffee experience. As a unique establishment, Birdhouse Coffee combines the warmth of a coffee shop, the precision of a roastery, the creativity of a kitchen, and the sweetness of a bakery, all within the same building as their sister company, Connecticut Valley Brewing Company. Whether you're starting your day with breakfast, enjoying a satisfying lunch, or indulging in a delightful dinner, their menu pairs seamlessly with their freshly roasted, ethically-sourced coffee and a delightful selection of looseleaf teas. For those seeking a private event space, look no further – they offer a charming venue that can be rented for any occasion, complete with catering services to make your gathering truly special. Stop in at Birdhouse Coffee and experience the perfect blend of coffee, cuisine, and camaraderie.
Perkatory Coffee-Southington, West Hartford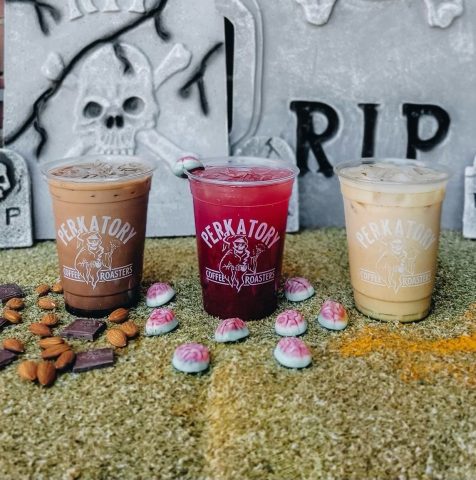 Going on their 5th year in business, Perkatory Coffee Roasters is a specialty coffee roaster with 4, soon to be 5, cafes throughout central Connecticut. Perkatory is always sourcing high-quality coffee that has been sustainably harvested, and works closely with producers who share the same goal of small batch coffee brewed to highlight the unique flavors in each cup. They're always working hard to bring new and unique coffees, fun and funky drink specials in a comfortable space to sip your cup and meet with friends, work out of the office, or enjoy a good book. If coffee isn't your thing Perkatory has something for everyone! They offer house-made tea blends and chai, hot cocoa, sparkling lemonades and more as well as decaf pour overs and espresso. Perkatory also offers 12oz bags of a wide variety of coffee blends and single originals to brew at home that can be ground to your liking or purchased as whole bean. Come grab a cup!
Alvarium Roasting Company-New Britain
www.alvariumbeer.com
Alvarium Roasting Company was established in 2022, following the ideals and beliefs of its sister company, Alvarium Beer Company: make the world a better place via great coffee, hard work, and creating an inviting space for the community. Try their unique specials crafted with house-made syrups and their small-batch roasted specialty coffee in New Britain and at Gastropark in West Hartford!
Barcelona Wine Bar-West Hartford
www.barcelonawinebar.com
Bet you don't know that the tapas-and-wine bar offers a spruced up caffeinated cocktail, and nothing beats the aroma of coffee in the afternoon: Barcelona's Mini Espresso Martini (and yes, it's completely adorable) is found only on the Happy Hour menu. This version is the classic can be ordered either "rich" or "dark" and features the addition of espresso maple syrup and nutmeg along with the vodka and Irish cream for dreamy, coffee-forward flavors.
Beanz & Co.-Avon
www.beanzandco.com
As they like to say, Beanz & Co. is "Where Everyone Belongs"!  Beanz & Co. is an inclusive coffee bar, employing people both with and without intellectual and developmental disabilities. They serve breakfast and lunch and have an extensive coffee drinks menu-try their Ice Strawberry Latte made with strawberry puree and their Pumpkin Cream Cold Brew for some end of summer/beginning of fall treats.
Coffee Trade-Avon
Part coffee house and roaster, antique store, and tea house, Coffee Trade has been enchanting Nutmeggers since 1989. Eighty varieties of coffee is just the start of what you will find here, among the pastries, coffee and tea supplies, candies and gifts.
Daybreak Coffee Roasters-Glastonbury
Since 1989, Daybreak is no stranger to fueling the community. Not only have they been serving great coffee drinks to Glastonbury folk for years, but this is the spot for coffee- related gifts, from Coffee Club subscriptions to gift boxes for your fellow caffeine-hounds.
Dom's Coffee-Avon
This unique European-style coffee shop has become an integral part of the local coffee community, working with other cafes to establish a Connecticut home for the coffee industry. You'll find informed baristas offering a variety of coffees on a rotating basis from the best roasters and a curated menu of made-to-order lunch and breakfast options and baked goods.
Drumroll Coffee Roasters-Wethersfield
www.drumrollcoffeeroasters.com
Stocking specialty coffees from around the planet, they roast exception beans, offer coffee tastings and let you sample so that you can find the blend you love.
Giv Coffee-Canton
They start with beans that come from farmers they know, then they roast them "obsessively', pay everyone in the chain fairly and even donate to those in need. Woo-that's a cup of coffee! Take a peek inside their roasting room, shop their coffees by the pound online or hunker down in the cafe for a pour.
Hartford Baking Company-Farmington, Glastonbury, Hartford
Despite first being known for their breads and baked goods, they haven't forgotten what we want to wash those fabulous carbs of theirs down with: a good coffee. With a growing list of classic and clever brews, this is certainly a stop for quality…everything.
J. Rene Coffee Roasters-West Hartford
From their Espresso bar to the countless pounds they roast, these folks are uber-serious about coffee. Milk is carefully measured and their espressos are prepared to standards set by the Specialty Coffee Association and they consider their cafes "third space", right behind your home and your workplace. 'Nuff said.
Lions Den Coffee Shop-Plantsville, Simsbury
www.lionsdencoffeeshop.com
Coffee as the great equalizer, from Lions to lambs. Who doesn't love an exceptional cup of espresso, savored and sipped amongst friends? From seasonal drinks like the PSL to Nutella Lattes and Con Pandas (espresso with a dollop of whipped cream on top-YUM), you'll find what you want to make your day all the better. Rawr.
Popover Bistro & Bakery-Simbury
Extensive menu of delicious coffees and treats that are local, organic and fresh. As a matter of fact, they've won Best Gluten-Free menu more than once, and best Brunch. And as their name suggests, fluffy, buttery Popovers feature prominently. New location in Stonington coming soon!
Provision State Coffee-Berlin
www.provisionstate.coffee
Provision State Coffee is a specialty coffee shop in the Village of Kensington (Berlin, CT). Located in the center of the state, they aim to be a hub for people to gather and belong. PSC showcases excellent coffee, tea, house baked pastries and savory toasts and sandwiches.
The Roasted Bean-Bristol
www.theroastedbeanct.com
Coffee from small batch artisan roasters, along with cafe nibbles of bagels, pastries, and French Macarons. Add dairy-free milks or CBD to your drinks to make it just how you want or need. Your day is made.
Silk City Coffee-Manchester
https://shop.silkcitycoffee.com/
Roastery, fabulous baked goods, delicious coffees and a whole lotta love and care. Silk City, named for Manchester, whips up your classic roster of coffee and espresso drinks but with their own freshly roasted beans. And while it's still warm out…have you ever had an Espresso over Lemonade? Go for it. And keep an eye out for their Give Back Events each month about organizations they support in the community.
Story & Soil-Hartford
www.storyandsoilcoffee.com
Frog Hollow in Hartford, the adorable, emerald green little shop, will perk you up with its community spirit and really, really good STRONG brews. Espresso tonic, Spanish Latte, Flat Whites and more will get you revved.
Tisane Euro Asian Cafe-Hartford
www.mytisane.com/
"Founded in coffee culture and is tempered with tea spirit." Asian spices and European techniques make this spot a go-to. Sip and savor coffees and espresso drinks, from their House Blend to a Cafe Breve and Honey Vanilla Lattes.
Victus Coffee-West Hartford
A portion of proceeds from every bag of coffee sold goes to organizations around the world that promote wellness, advocacy, and empowerment, including the CT Cycling Advancement Program, Open Doors Outdoors, CT Foodshare, and Team Africa Rising (Benin). They serve a full roster of specialty coffee drinks.
WeHa Brewing & Roasting Co-West Hartford
Yep, you're correct-coffee and beer. Small-batch, artisanal brews-n-brews. Does it get any better? Drips, pour-overs, French Press…need a little CBD in that? Done. Head to their cafe and taproom or order online.
Middlesex County
Klekolo World Coffee-Middletown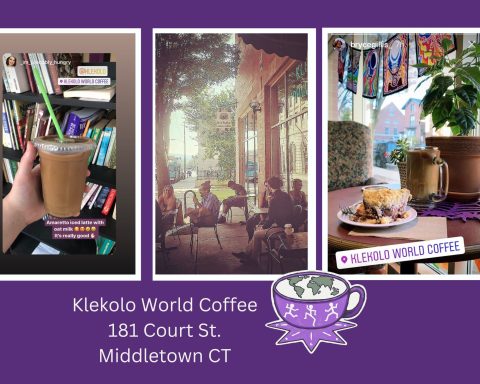 Nestled in the heart of Middletown, Connecticut, Klekolo World Coffee is a timeless treasure. Captivating the senses and souls of coffee enthusiasts since 1994, this independently owned coffee house curates beans from award-winning roasters who share their devotion to organic and fair trade coffees. Step through its doors and immerse yourself in the aromas of specialty coffee drinks and exquisite flavors that will enliven your day, whether you are enjoying a morning ritual of a perfect Sicilian espresso, meeting a cherished friend and sharing a cup, or taking time for yourself to seek a moment of solace in a harried day. Klekolo World Coffee is a place where diversity thrives, discussions of current events flourish, and games of chess unfold in a relaxed atmosphere and everyone is welcome. At Klekolo, coffee isn't just a beverage; it's a catalyst for inspiration and wonder and where anything feels possible.
Two Wrasslin' Cats Coffee House-East Haddam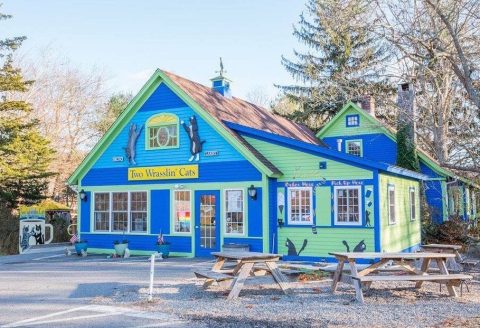 Located in East Haddam, this unique cat-themed coffee shop features a menu of hot, iced, or blended coffee, espresso, and chai drinks. With plenty of indoor and outdoor seating, TWC serves up freshly-made breakfast sandwiches including the Littermate and Kitten Classic. Lunch features a line up of customer favorite sandwiches including the Catprese, Kitten Club, Krazee Katt as well as the ever popular Furry Curry and Calico Chicken salads. TWC is known for its welcoming ambiance, messaging and customer service and in 2022, it opened the New Wrasslin' Cats' Lounge, which is staffed with 6 adorable resident sibling cats for visits by supporting customers. The shop is open from 9 am to 3 pm every day except Tuesday.
The Nest Coffee House-Deep River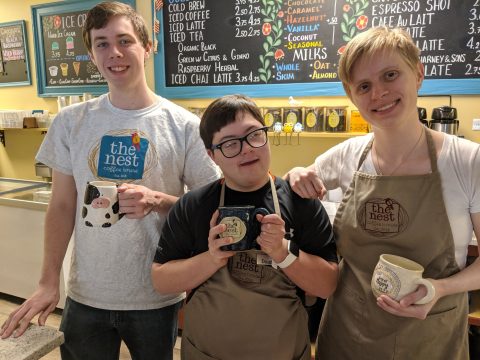 Discover "The Nest Coffee Shop" in Deep River, CT—a beacon of inclusivity and warmth! Indulge in their specialty coffee and espresso, delightful baked goods, hearty sandwiches, and delectable Affogatos—all crafted with love and care. Nest Coffee Shop is more than just a coffee house; they're a place where neurodiverse young adults, including those with autism and intellectual/developmental disabilities, find empowering employment and social opportunities. At The Nest, they recognize the unique skills, strengths, and preferences of every individual, ensuring they're not only seen but celebrated. Join them in their mission to uplift these amazing young minds and elevate public awareness. Every cup you enjoy helps them build a more inclusive and accepting community. Your caffeine fix, paired with their mouthwatering menu, never felt so good!
Perkatory Coffee-Middletown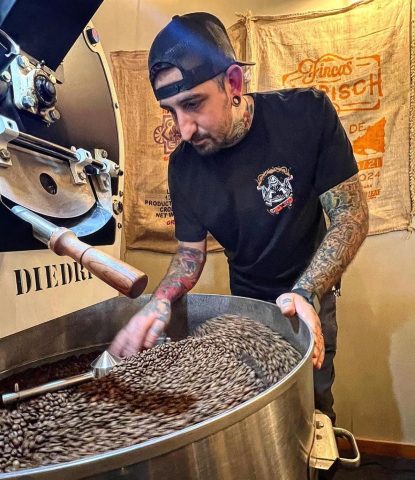 Going on their 5th year in business, Perkatory Coffee Roasters is a specialty coffee roaster with 4, soon to be 5, cafes throughout central Connecticut. Perkatory is always sourcing high-quality coffee that has been sustainably harvested, and works closely with producers who share the same goal of small batch coffee brewed to highlight the unique flavors in each cup. They're always working hard to bring new and unique coffees, fun and funky drink specials in a comfortable space to sip your cup and meet with friends, work out of the office, or enjoy a good book. If coffee isn't your thing Perkatory has something for everyone! They offer house-made tea blends and chai, hot cocoa, sparkling lemonades and more as well as decaf pour overs and espresso. Perkatory also offers 12oz bags of a wide variety of coffee blends and single originals to brew at home that can be ground to your liking or purchased as whole bean. Come grab a cup!
Ashlawn Farm Coffee-Old Saybrook
www.farmcoffee.com
One of Connecticut's very first specialty coffee roasters, Ashlawn has been perking away for over 20 years. They offer artfully-roasted, specialty-grade coffee, with a focus on exemplary service in their cafe-you can couple those cups with an array of house-made, grab-and-go baked goods.
Brew Bakers-Middletown
This cafe-eatery serves coffees, breakfast, and lunch with a European flair. Brewing Saccuzzo coffee, they have some pretty creative caffeinated libations-The Devil's Advocate (espresso, French Vanilla, chocolate, caramel and cocoa), the Berry White, Island Steam…we will let you have the joy of discovering those yourself.
Deep River Roasters-Deep River
www.deepriverroasters.ecwid.com
It started with roasting for friends and local markets, and now they have a full-blown micro-roastery offering almost two dozen varieties of coffee. You can also get your caffeine hit from their coffee syrup (hello, any Rhode Islanders out there looking for coffee syrup??) or a delivery service for your favorite brews.
ECO Coffee House-East Hampton
www.facebook.com/ECOCoffeehouse
Organic, Fair Trade espresso bar and tavern serving craft beers and cool cocktails. Stop in the morning, circle back after work! Pumpkin Pie Ice Latte for these warm fall days, velvety Nitro Cold Brew pulled right from the kegerator, and a bevy of espresso drinks to sip in the sun.
Essex Coffee and Tea-Essex
A small, independently owned coffee and tea shop located in historic downtown Essex Village offering gourmet coffee, organic loose leaf tea, and delicious fresh baked goods, including allergen free desserts. Essex Coffee is an avid supporter of the local arts, offering monthly displays by area artist, as well as handcrafted edibles from local vendors.
Higher Grounds at 32 Main-East Haddam
www.facebook.com/HigherGroundsat32Main
"A Coffee House Gallery", with both a coffee house and and art gallery under one roof. Breakfast all day, art, live music, and coffee-what is not to love here?
Julie's Cup of Joe-Westbrook
www.facebook.com/juliescupofjoe
5 years old and loved a lot by the locals! Classic coffee drinks, served with lots of spunk and heart. Grab a (Julie's) Cup of Joe and maybe a last minute gift of their merch or woodcrafts by local artisans.
New Haven County
Perkatory Coffee-Branford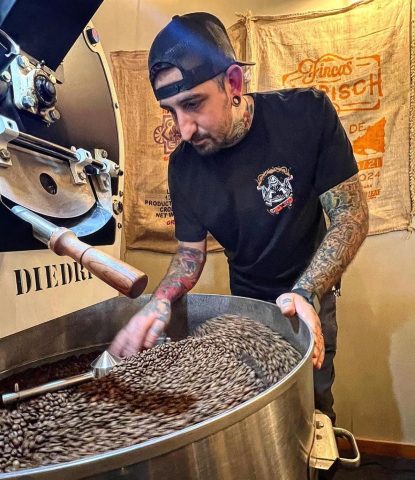 Going on their 5th year in business, Perkatory Coffee Roasters is a specialty coffee roaster with 4, soon to be 5, cafes throughout central Connecticut. Perkatory is always sourcing high-quality coffee that has been sustainably harvested, and works closely with producers who share the same goal of small batch coffee brewed to highlight the unique flavors in each cup. They're always working hard to bring new and unique coffees, fun and funky drink specials in a comfortable space to sip your cup and meet with friends, work out of the office, or enjoy a good book. If coffee isn't your thing Perkatory has something for everyone! They offer house-made tea blends and chai, hot cocoa, sparkling lemonades and more as well as decaf pour overs and espresso. Perkatory also offers 12oz bags of a wide variety of coffee blends and single originals to brew at home that can be ground to your liking or purchased as whole bean. Come grab a cup!
G Cafe Bakery-New Haven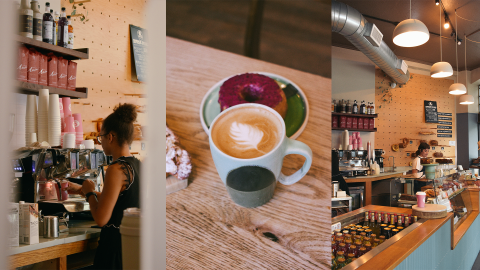 When talking about G Café Bakery, the first thing that comes to mind is definitely "No Ordinary Bread". And with more than 10 years in New Haven County, they have now begun an exciting new venture sourcing superb coffees from around the world to be roasted in-house! The exceptional quality of their breads and pastries is now matched with exceptional quality coffee, and a carefully curated atmosphere with a varied lunch menu. Visit them at their different locations around New Haven County.
Atticus-New Haven
Saunter over to the Bookstore Cafe location (first floor of the Yale British Art Museum) or their East Rock neighborhood location, and a delightful coffee drink so awaits. Along with a glass of bubbly, or salads and pasta dishes, breakfast all day and of course, bakery treats.
Cafe Atlantique-Milford
For over 16 years, serving up sweet and savory crepes, paninis, pastries and lots of coffee drinks.They have a good motto: "A little fancy, a lot of delicious". Buy their coffees by the 1-pound bag too to take home, too.
Cheshire Coffee-Cheshire, Waterbury
They serve up a long list of seasonal coffee drinks, in addition to their regular brews. Saunter over for homemade scones, pastries and granola, too. You'll get in the autumn mood *fast* when you sip on their Caramel Apple Latte or Maple Spiced Latte.
Coffee Pedaler-New Haven
www.facebook.com/thecoffeepedalernewhaven
Get the best of both worlds in this vibrant New Haven cafe with quality coffee and wine-after-5 in a relaxed setting. They also sell Tandem Coffee (from Maine) by the pound. Keep an eye out as new treats pop up!
Countryside Coffee Roasters-Newington
Good coffee that doesn't break the bank-we can get on board with that! They offer a half dozen flavors that will suit your moods-Breakfast Blend to Hazelnut and delicious ones in between.
Crossroads.-North Haven
crossroads.' mission is to provide great tasting coffee and baked goods with a smile whilst being eco-friendly and affordable. Born from the minds of two young women, crossroads. wants to bring coffee back to the basics with a twist.
Fussy Coffee-New Haven
This New Haven shop serves espressos, pour-overs, seasonal (Lemon Olive Oil Flat White, anyone?) and classic lattes, as well as cocktails and small plates. If you aren't adventurous in the realm of caffeine, no need to fret, they have the classics.
Glory Coffee Co-Newington
https://www.facebook.com/glorycoffeeco/
Top quality beans, roasted to perfection, and a roastery operating for "the Glory of God", so, not your average cup of coffee! Purchase their coffees by the pound online, along with some swag. Glory be!
Koffee?-New Haven
Their coffee and teas are organic and any food and drink coming out of their kitchen is environmentally friendly and whoa…affordable! We like that. So many fun combos like the Ginger Snap (spice chai latte with espresso) and, are you ready? The 747: it has 7 shots of espresso, 4 shots of cream, and 7 teaspoons of sugar…along with a liability waiver. Buckle up.
The Jitterbus-New Haven
Kids can have the ice cream man, you've got The Jitterbus! Located in downtown New Haven, this truck serves up coffee drinks made by some pretty seasoned baristas. They also cater events for those celebratory coffee-lovers out there.
The Loaded Goat Coffee-Naugatuck
As they say, Killer Coffee-Sinful Sweets-A Plus People and True Community. Doesn't that sound like a great place to enjoy a coffee? Psst-you can also add CBD to any of their drinks.
Ovelle Coffee-Wolcott
Jamaican Blue Mountain coffee right here in Connecticut. Ovelle Coffee is fair trade and supports farmers in Jamaica, who farm these delicious coffee cherries, which was roasted into beans, which then make you a fabulous cup o' joe. Shop their online store for coffee by the pound, Coffee Club subscriptions and more.
Oxford Baking Co.-Oxford
Oxford Baking Company (OBC) is the quintessential New England Coffeehouse and Bakery housed in a 200-year-old building that happily retains its charming atmosphere. Brewing Saccuzzo Coffee and speciality teas and baking pastries and cakes in the amazing kitchen on-site, OBC has become a local favorite.
Traveling Sisters Roasters-Wolcott
www.travelingsistersroasters.com
This home-based coffee roasting business (boy, their house must smell good!), specializes in small batch, organic coffees that you can purchase via subscription or at various farmer's markets in the area. Their Seasonal Blend is being roasted as you speak,..or order.
Willoughby's-Branford, Madison, New Haven
www.willoughbyscoffee.com
Roasting beans and educating about coffee for 36 years, Forbes named them one of the best roasters *in the U.S.* in 2018. Willoughby's offers a long list of varieties for sale by the pound, and plenty of coffee drinks and pastries at their cafes. Coffee accoutrements can be purchased online to up your coffee game.
Litchfield
Arethusa A Mano-Bantam
From the great farm that brings you milk, ice cream and oh, so much more deliciousness, stop in at their Cafe, which features classic cafe coffee drinks to go with their scratch-made pastries, seasonal muffins, breakfast and lunch items.
Batchy Brew-Torrington
This mobile coffee truck serves coffee, espresso and other handcrafted beverages in the Torrington area. Check out their seasonal specials such as the Vanilla Cardamom Latte, Pumpkin Cheesecake Latte and Hazelnut Harvest Iced Coffee with Irish Cream Syrup.
Espresso 59-Litchfield
www.facebook.com/espresso59ct/
Espresso 59 is located on the Historic Litchfield Green. They feature Lavazza coffees prepare perfect espresso, cappuccino, hot or cold lattes along with serving specialty teas and coffee drinks. They have a full selection of house- made pastries, savory lunch items and dinners to go along with 14 flavors of Gelato and Sorbetto.
Great Minds Coffee Roasters-Oakville
Here's a thought: a roastery and a not-what-you-expect cafe for coffee lovers. All their coffee is roasted weekly and they open their doors to the public twice a week. Free samples, tastings, knowledge, good coffee conversation-that's how Great Minds work.
Ilse Coffee-North Canaan
A cup of coffee is only as good as the beans you begin with and that's why Ilse finds "beautiful coffees". In addition to the beautiful Ethiopian, Kenyan, Colombian and Mexican coffees they sell, some posh kettles, grinders, and cups are for sale too. Coffee subscriptions also available.
Krafted Brew Lab-Bantam
They roast and they brew; stop by and linger while you savor an espresso, a Flat White, iced coffee drinks, you name it. And then pick up a pound bag that's been freshly roasted to have at home, from the classic Ethiopian, Bantam House Blend and Organic Colombian, to their signature Pink Bourbon Kombucha Colombian and Jamaican Blue Mountain.
River & Rail Cafe-New Milford
www.facebook.com/riverandrailcafenm
Small and charming, with the prettiest wallpapered wall (you'll understand when you see it), you can sit by the window and watch the passers-by in quaint New Milford with one of River & Rail's carefully brewed coffee, espresso drinks, chai and ciders. P.s.-Don't miss the Parmesan Scones.
Toast & Co.-Litchfield
Grab an avocado toast and more (hence the name), along with the requisite coffee drinks, of they specialize, to perk you up; Long shots, Quad Shots (2 long shots of espresso), Lattes and Cappuccinos, with all the flavorings to make it expressly your own.
Wilson's Bakery & Cafe-Kent
This rustic and beautifully styled cafe in the heart of Kent was founded by the High Watch Recovery Center (also in Kent). As many alumni work at High Watch to gain work experience, when you grab a coffee, or a delicious pastry, or a BIG salad, you are helping support individuals in recovery.
New London County
Craftsman Cliff Roaster-Norwich
www.craftsmancliffroasters.com
Try their chef-inspired micro-roasted, Fair Trade and organic-sourced coffee and cacao that has earned accolades as a Connecticut favorite. You'll experience the true taste and tradition of this Rose of New England time-honored craft.
Deviant Donuts-Mystic
Sip on speciality brews like a New Orleans cold brew or a Strawberry Mocha along with classic cafe drinks. And hello, coffee must have a donut sidekick, so their Coconut Cream Pie or Sugared Raspberry donuts would work well.
Indulge Coffee & Sandwich Co.-Stonington
Casual and welcoming, Indulge has become a place where community comes together. They sell coffee by the pound or in the form of one of their many coffee drinks, such as their Creme Brûlée or Oatmilk Honey Lattes, a Cortado or a Dirty Chai Latte, along with creative sandwiches.
Macondo-Stonington
A full roster of Columbian coffee and you can order online Macondo-to-go! Iced, hot, matchas, lattes, Cafe con Leche, Cortados, in addition to bagels and croissants. They have a good ol' cup of joe, too. Macondo just made your mornings really easy.
Mystic Depot Roasters-Mystic
Located in what once was The Mystic Depot train stop that dates to 1905 (psst-the station was used as the model for the American Flyer toy train station beginning in the mid 20th c.), it is now a charming, homey and convivial cafe. Take the Red Eye, grab a cold brew or coffee and have a light bite.
Sift Bakery-Mystic
Start with an expertly crafted coffee drink made with New Harvest coffees or a Harney & Sons tea at this French-focused bakery. Travel down the counter and add a fabulously flakey croissant, sweet or savory, breads (oh, the breads!), ginormous cinnamon buns, huge cookies, and desserts and macarons the likes of which you have never seen.
Social Coffee Roastery-Groton
www.facebook.com/socialcoffeeroastery
Black and white and green all over, both in coffee, decor, and eco-friendliness. This sleek and curated yet cozy spot serves up brews made with organic and pesticide-free beans, like their Cold Brews, Turkish coffee, Roasting starts at 3:30am each morning!
Tolland County
Dog Lane Cafe-Stores
Sister to the Vanilla Bean Cafe, Dog Lane Cafe is the newest European/American cafe in the area. Whether you want a classic bottomless cup o' joe or a flavored Caffe Latte, you'll find something good here in Husky Country.
The Flour Girl Cafe-Hebron
Woman-owned and operated, with a flour dusting of integrity of ingredient and process. Choose a drink from their Cafe au Lait and Nitro coffee studded menu, pair it with one of their line-inducing Cinnamon rolls and proclaim that life is good, dahling…
Stafford Coffee Company-Stafford
Can you honestly resist a Honey Hazelnut Latte, or a Black and White cold brew or a foamy, creamy Macchiato when the weather cools? We didn't think so. So head to Stafford Coffee Company for a full menu of yum.
Kevin's Coffee Roasters-Vernon
FB: Kevin's Coffee Roasters
Small, local shop that roasts beans and has walls of coffee beans that they sell by the pound. If you want a good cup of java and a casual, relaxed atmosphere where everyone knows your name, Kevin's is it.
LuAnn's Bakery and Cafe-Ellington
Everything is made from scratch at LuAnn's-from breakfasts, lunches and beyond. Pair a bakery item with something from their Fall Drink Specials menu hits all the notes, from apples, to caramel, to pumpkin and chai. See website for their drive-thru locations, too.
Vernon Coffee Roasters-Vernon
Roasting those beans fresh daily results in freshly ground and roasted coffee, along with bulk and seasonal blends. They've got a full menu of hot and cold coffee drinks, along with standouts like Turkish coffee and decadent espresso drinks such as a Golden Spice Latte (maple/turmeric/cinnamon).
Windham County
Baker's Dozen-Pomfret and various locations
When you don't want Dunkin and you don't have time to plunk on a couch at a cafe, this is your good go-between. Grab a dozen, or a Baker's Dozen of donuts, along with a coffee drinks, hot, cold, or even frozen and tailored to your taste.
Dog Lane Cafe-Storrs
From the folks that brought your the longtime-popular Vanilla Bean Cafe in Pomfret, the Dog Lane Cafe is curled up next to the UConn campus in Storrs, bringing you coffee drinks, pastries, soups, salads and more.
Grounded Coffee-Willimantic
Sourcing from domestic and international roasters, Grounded Coffee aims to introduce their customers to a variety of styles and flavors (you can subscribe monthly, too). The space is airy and inviting and they hope you will feel…grounded. Sit and enjoy their creations, from Honey Lattes to Batch Brew.
Moon Magic Cafe-Danielson
Where "magick meets barista" and the Dalgona Whipped Coffees (you know, like the ones on the Tin Tok trend that are ridiculously delish) are foamed as if by magic! They conjure iced coffees, cold brews, lattes and more. All with a little extra dose of…well, magic.
The Vanilla Bean Cafe-Pomfret
If you are cruising through the picturesque Quiet Corner, be sure to stop in at this long-standing institution of good food and conviviality. Grab a coffee drink like their seasonally-inspired Maple Cinnamon Latte, add a fresh made pastry and watch the world go by. Bikers welc