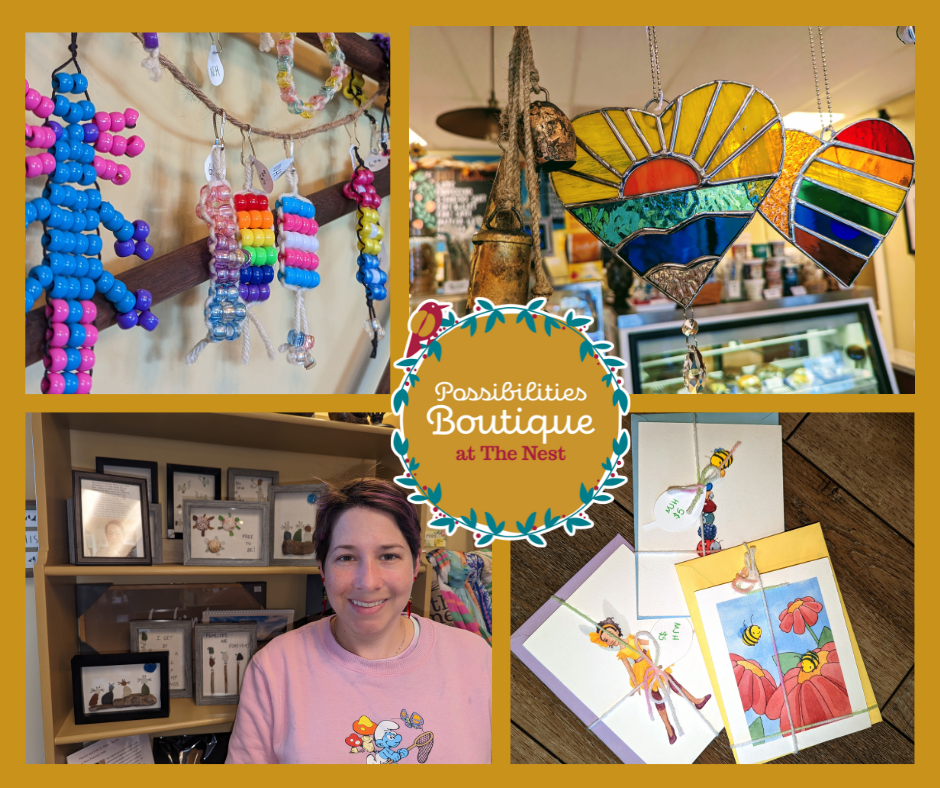 The Nest Coffee House is seeking young*, emerging neurodiverse artists and makers interested in showcasing and selling their work while exploring what an artistic mentorship can offer them.  A Little Compassion and The Nest believe it's time for neurodivergent artist's  talents are celebrated and valued!
WHAT KIND OF WORK ARE WE LOOKING FOR?
The Nest is prioritizing small-scale goods for consignment in The Possibilities Boutique. Some examples of current items for sale at The Possibilities Boutique include:
Jewelry
Keychains
Illustrative prints
Stationary/bookmarks
Wall art
Wood carvings/etchings
Mixed media items
Stained glass ornaments
Knitted/crocheted bags, hats and creatures
Wind chimes
Felted Items
Pottery
WHO SHOULD CHECK IT OUT?
*The program is developed for artists and makers between the ages of 13 and 35 who have autism, intellectual/developmental disability, or other related conditions and are ready to take their art to the next level!
The program is of no cost to neurodivergent artists and makers who are accepted into our new Artist's Nest program.  These artists will have the opportunity to sell their goods on consignment in The Nest's Possibilities Boutique. Consignors will also be partnered with experienced artist mentors to help take their work to the next level and meet their individual goals.
WANT TO KNOW MORE?
Join us for a casual info session where we'll share more about the program, give you a tour of our Boutique, and answer any questions you may have.  Parents and caregivers are welcome to attend with interested young adults. Attendance at a session is strongly encouraged.
In Person Session – Monday, July 10th at 6 -7 pm
at The Nest Coffee House (162 Main Street, Deep River, CT 06417)
Online Session –  Saturday, July 15th at 9 -10 am.
Registrants will receive a link to a Zoom meeting prior to the session.
All registrants should be prepared to share photos of their work.
Sign up to attend an info session by clicking here.